I mentioned that my Spectrum Aqua pens had arrived the other day. I was going to wait until I had time to do a really detailed run-down of them but I was too excited to wait and decided to rip open the packs and play with them right away. Here are my first thoughts using these pens.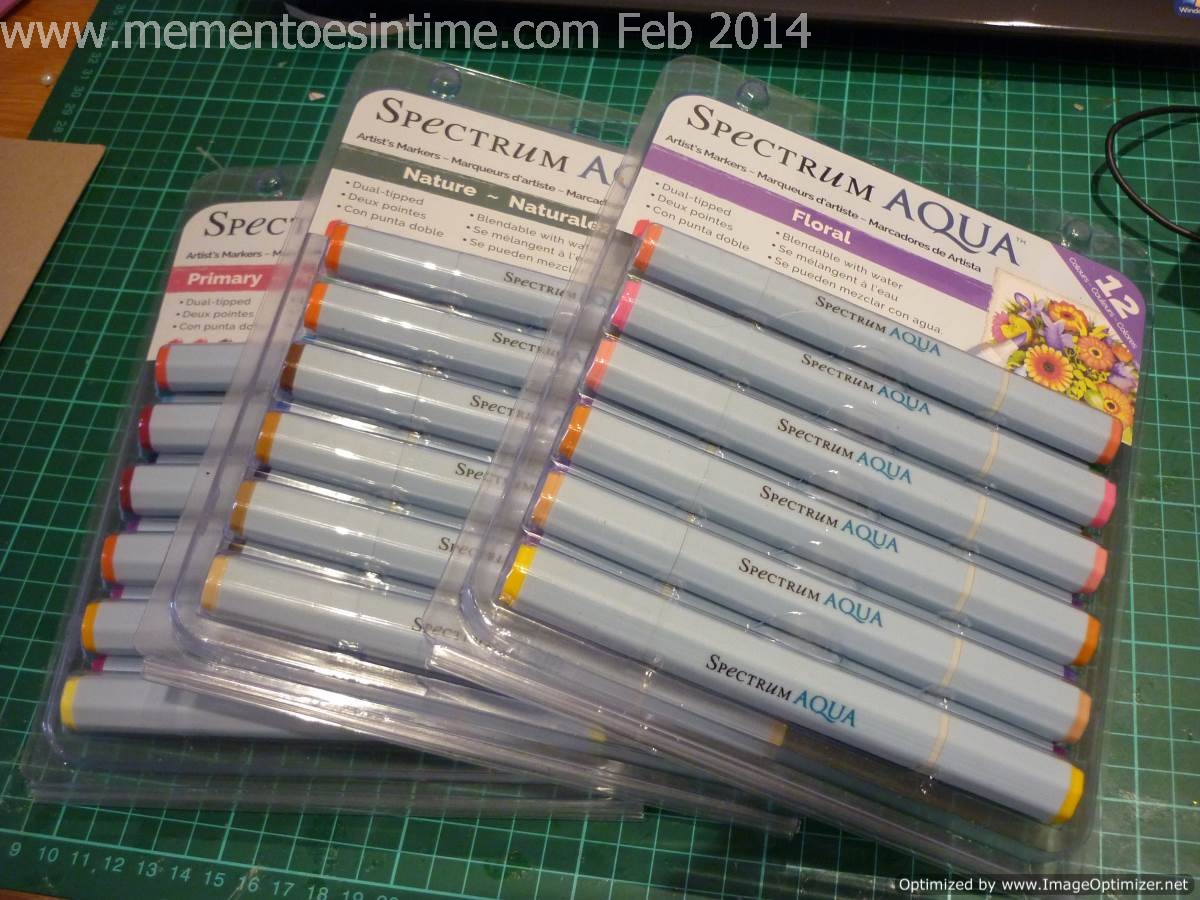 The Spectrum Aqua pens according to their website are ' the water-based artist's marker that goes wherever your creativity takes you. From sketching and illustration… to layout and design… to Manga and comic art… and paper-crafts too. Whatever your style, Spectrum Aqua combines the performance of water-based color medium with the easy to use convenience of a marker – to give you outstanding color results'.
I had seen them used in demos a couple of times and was intrigued by them, so decided to blow the cash and purchase a few packs, so I could test out these claims.
I have now got three of the four sets available, as the Essentials set had sold out, due to the huge popularity of these pens. I wanted to find out what the fuss was about, so set about using them right away.
What you get

There are currently four packs available, each containing 12 pens, so plenty of scope there. Also, the packs are themed, which is a great idea, as it gives you a clue right away of how to use them. There is a Nature Set, an Essentials, a Primary and Floral set. The Nature set has muted colours, the Floral set has pinks, purples, orange, yellow and greens and the Primary set has bright colours. The Essentials set, is the one I don't have yet but seems to have a mixture of colours in it and they appear to be more muted.
The pens are dual tipped, with a brush at one end and a fine point at the other. The barrel is octagonal in design, which gives it a nice feel in the hand. The pens contain water-soluble inks, which can be blended with water, allowing you to get lots of different tones from each colour.
Working with the pens

Now, I have lots of stamps, hundreds and hundreds of stamps but I don't think my stamps are good enough to showcase these pens very well. Anyway, I found a simple, small butterfly to use, which was actually just a cheap foam backed stamp but I thought that if the pens worked with this, then there can't be much wrong with them!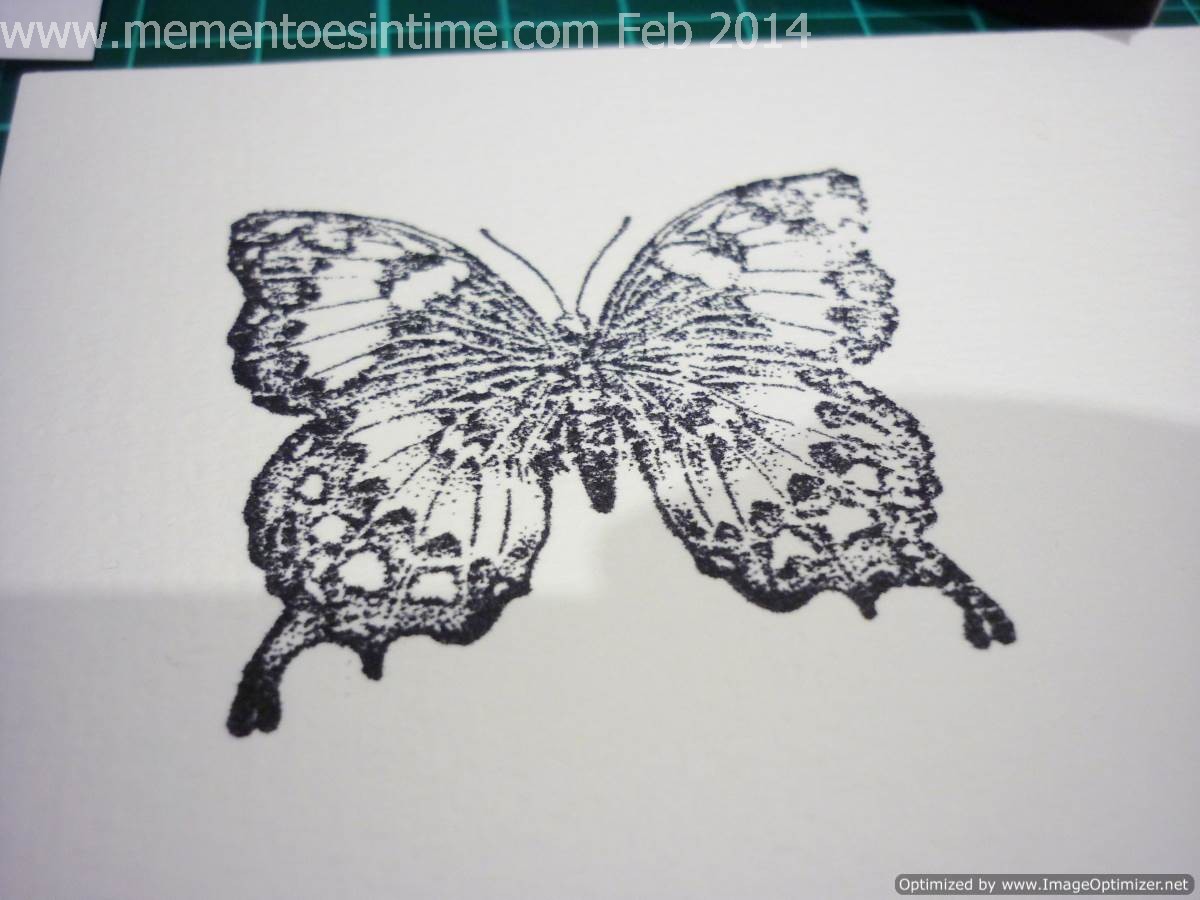 First problem, was stamping onto the thick watercolour paper I was using. You do need to use a watercolour type paper if you are going to be flooding the paper with water, as paper will just buckle. I was using my trusty Archival inkpad but the paper just seems to absorb all the ink and you get a bit of a patchy impressing.
This is a common problem when you are stamping onto watercolour or handmade papers, as the paper is designed to suck up moisture and does the same with your ink! In the end I tried a VersaMark Fine and this seemed to work ok but you could say that it was still a little patchy.I don't think this is too much of a problem, just load up your stamp well and hold it on the paper a bit longer than normal. There might be some bleeding of the ink, resulting in a bit of a fuzzy image but when you are creating a watercolour image, which is itself not a defined one, I don't think this matters at all.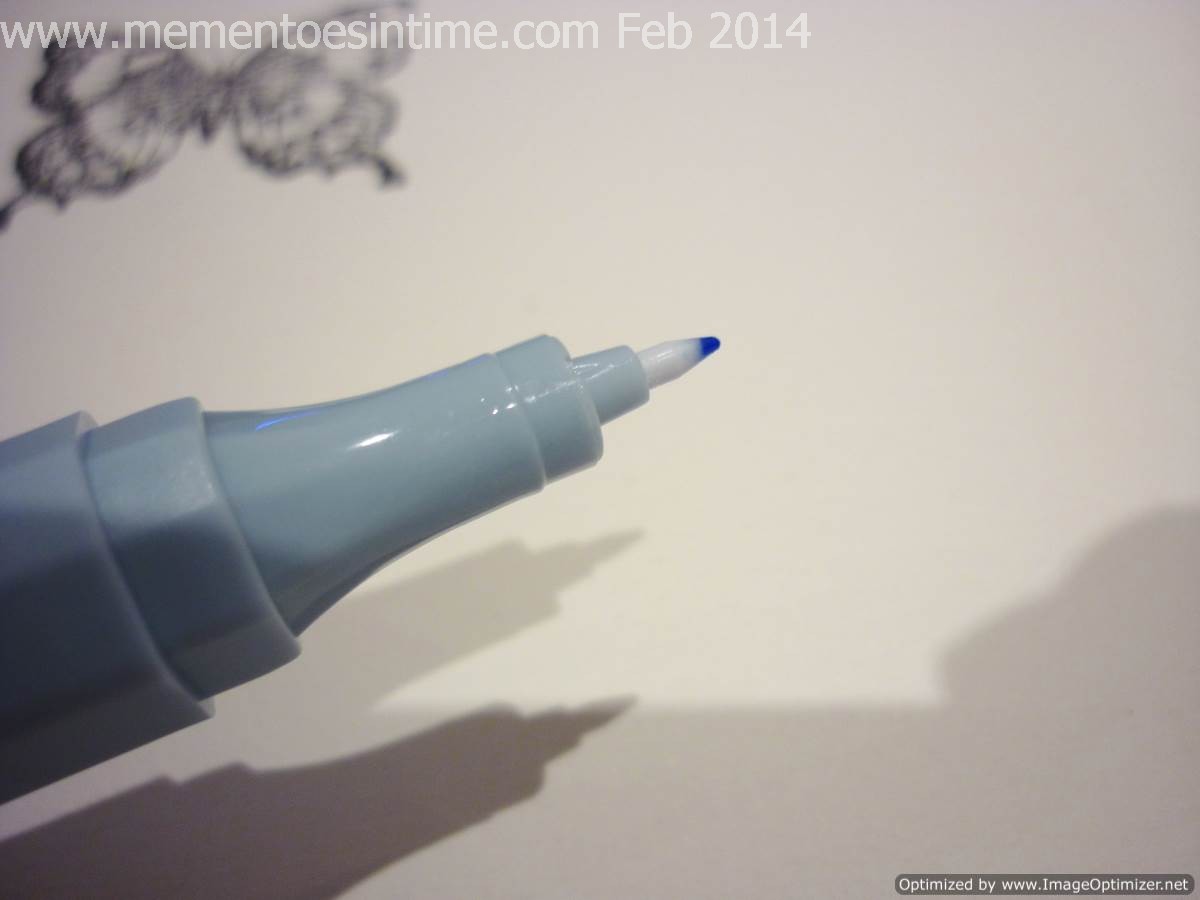 Back to the pens. As already noted, the pens themselves, have a thin end for fine detail and a thicker brush end. I never really like these double ended pens and personally, I don't find much use for the fine end, so I moved on to the brush end right away.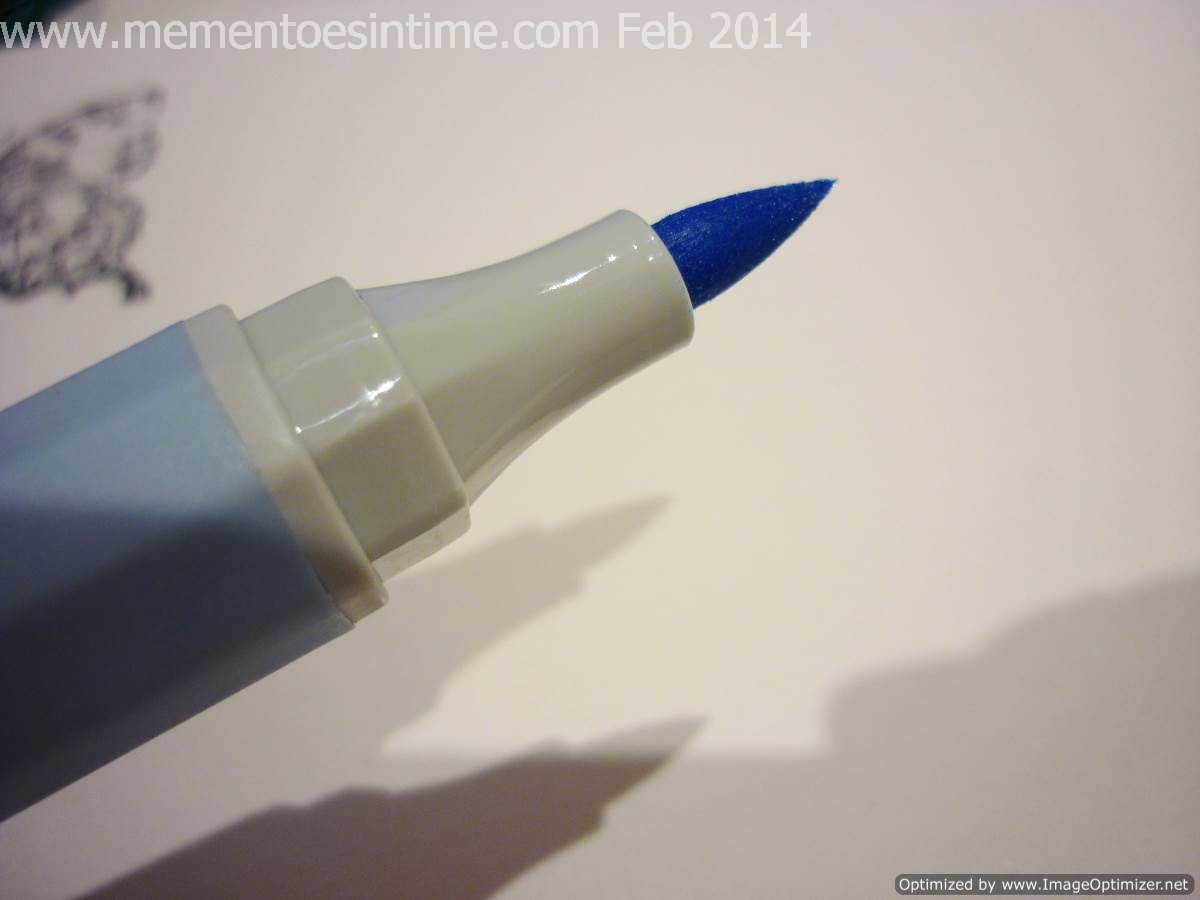 This is a lovely thick brush, almost like a watercolour brush itself. The brush seemed very wet with ink, which was reassuring, as I really don't like 'dry' pens. The pen was absolutely lovely to use, you can sweep on the colour very smoothly and I love the richness of the colour. which you can then blend out and merge with the other colours. There was plenty of ink, so that it didn't just absorb into the watercolour paper immediately, as I had feared it might do.

I started off just blocking the colour on, roughly where I want it to be, not really concerned with how it looked at this stage. Also, I wasn't too worried about gaps either, as I knew I would be blending them in. You can see the rough colouring below. I have gone for deliberately vivid colours here, as an experiment.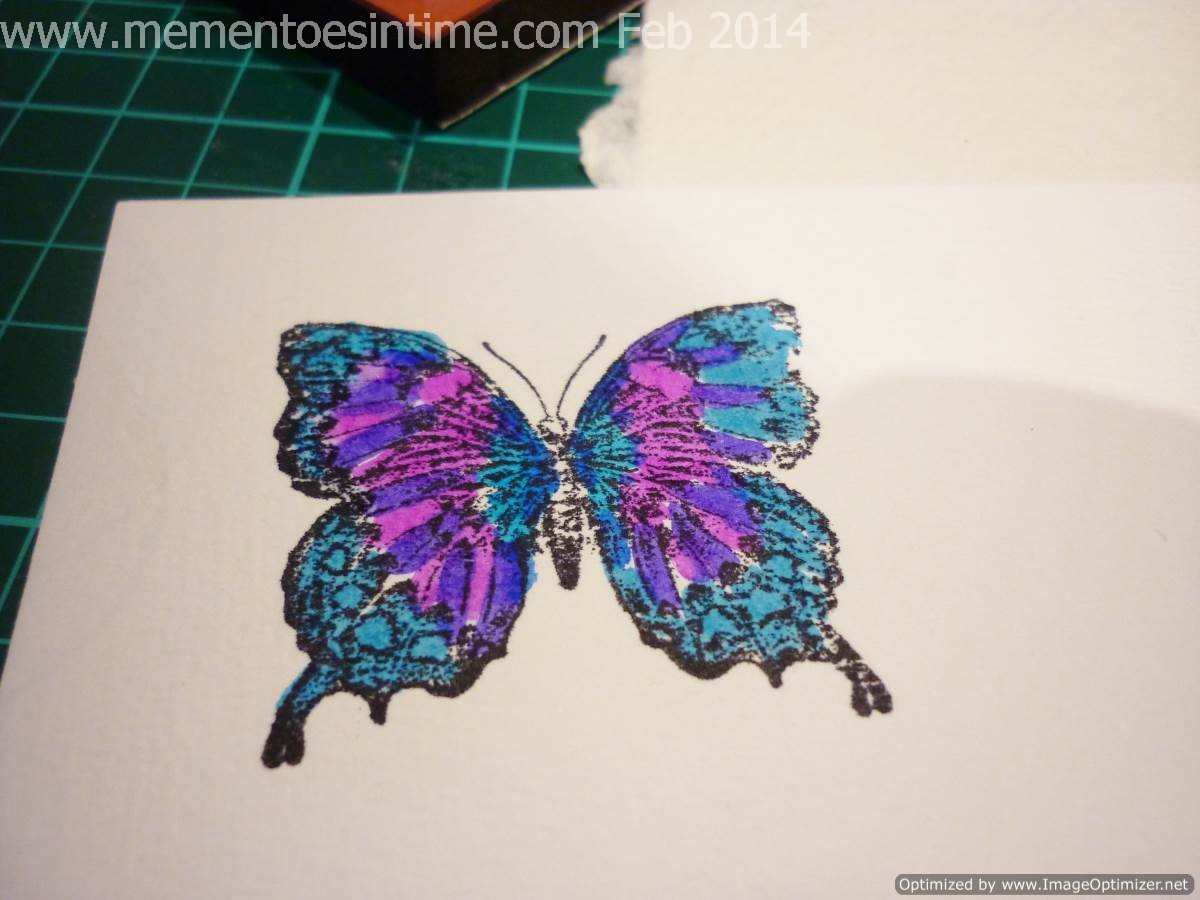 I've also chosen to use a waterbrush rather than a paintbrush for my blending, as I like the way the waterbrush delivers a standard amount of water to the page. I find this helps to avoid the big blobs of water you can sometimes get with a brush. Also, I prefer to leave the expert tools to the experts, if you know what I mean!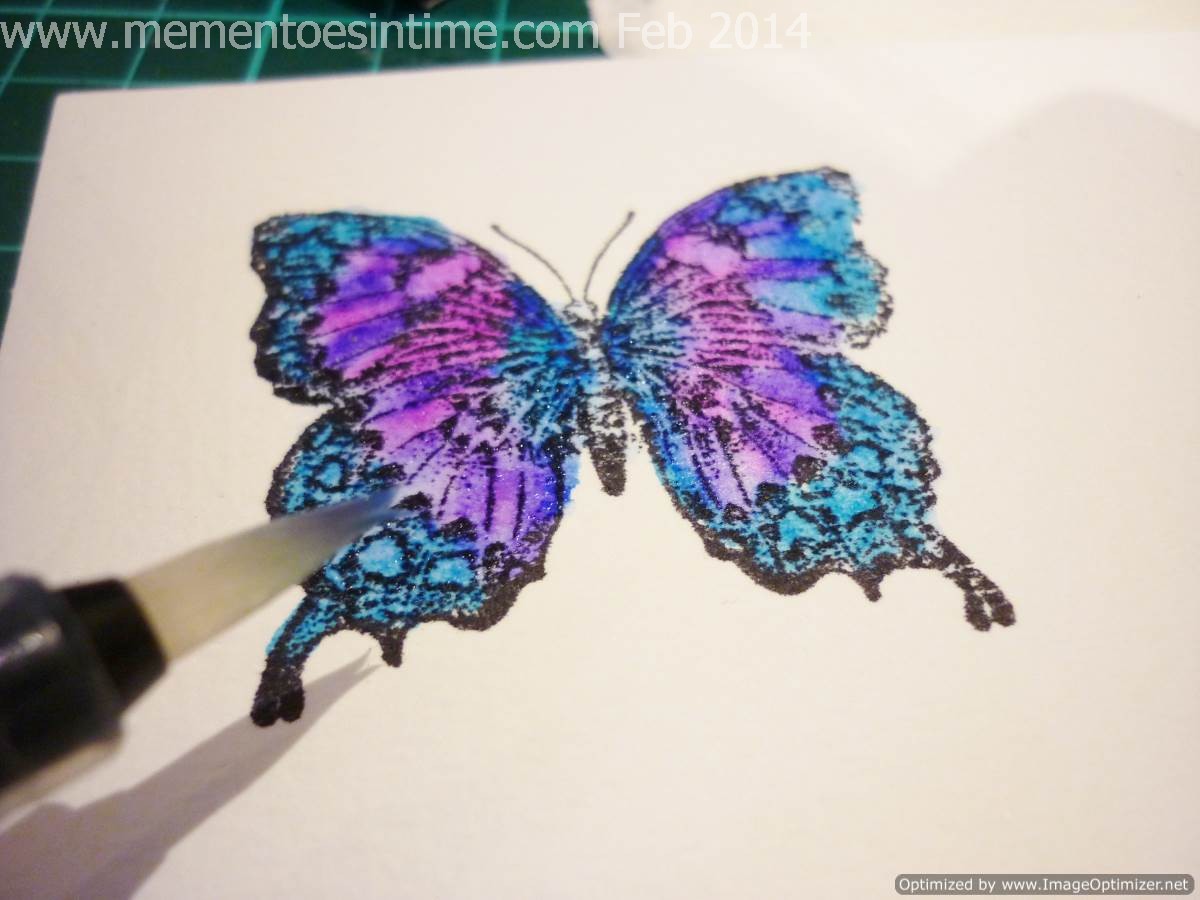 I am no expert using watercolours, so please don't judge the artwork. You can see the mistakes if you look! However, I was very pleased with the result and in particular how well the inks blended together on my rather simple image. I just pushed the colour outwards, gently blending them together with the brush. I have gone over the edge of my stamped image a bit here but I don't think that mattered at all.

Another surprise was that I returned to my image a while later and played with it again and the ink still blended. So it seems that you can still blend even when the ink is drying, which is a nice little extra.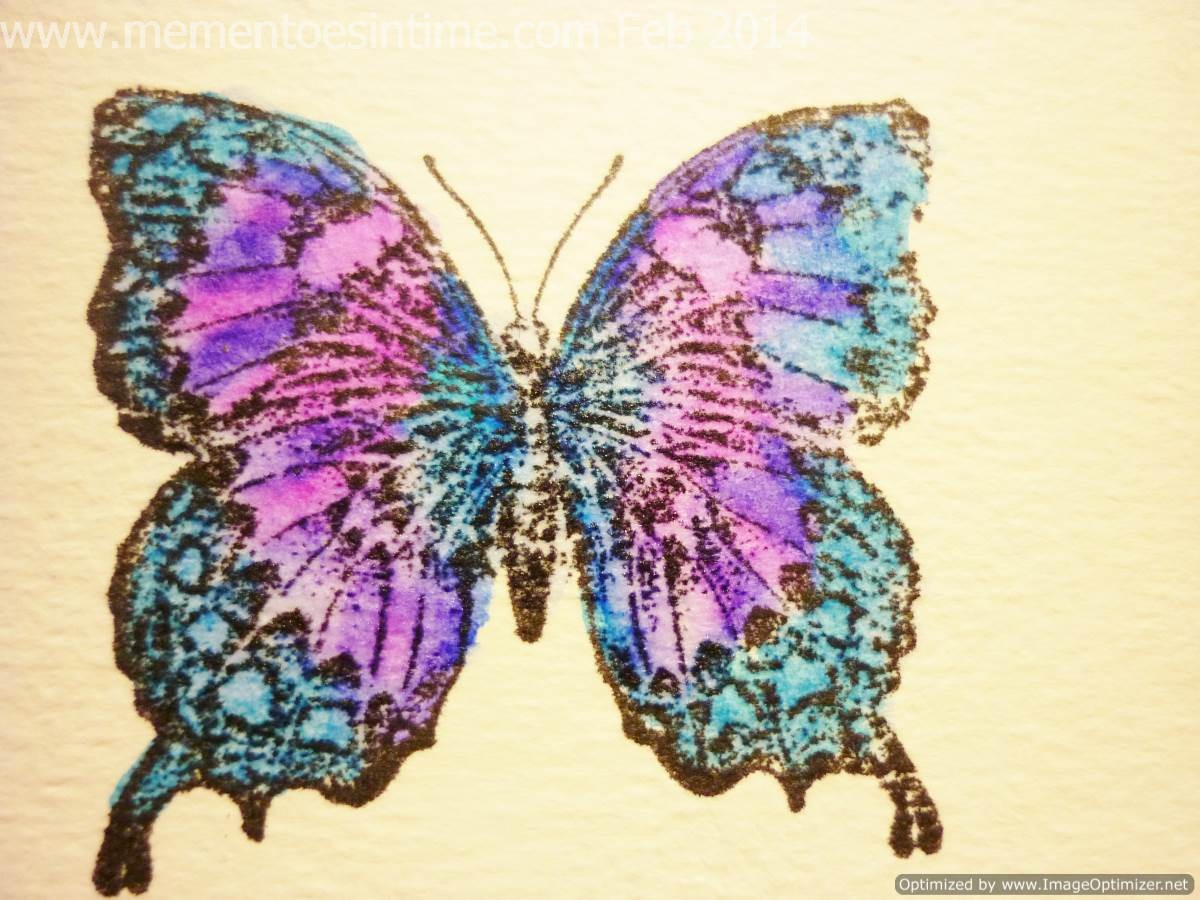 The Verdict

I haven't had much time to play with them yet but I can say that I am very, very pleased with my purchases. This demo literally took me about 5 minutes to do and with little attention to detail, as I was so keen to just get my pens out and play with them and then post a blog entry as quick as possible.
I found the pens fun and very easy to use, making them suitable for beginners and people lacking talent.....like me! The colours blend well and produce a wonderful, vibrant finish, which is a refreshing change from the sometimes watery and feint effects you get with pencils and crayons.

I am quite sure that I have only just scratched the surface of what these pens can do. Colouring stamped images is one of my favourite things to do in the crafting realm, so I am sure I am going to get lots of use out of these new Spectrum Aqua pens. I'll be posting some more projects as I go hopefully. Anyway, thumbs up so far!
PS This is a completely independent review. We don't get paid for anything we say and I bought my pens myself!
PPS Please note that all photos are date stamped as 2014, which should be 2015!