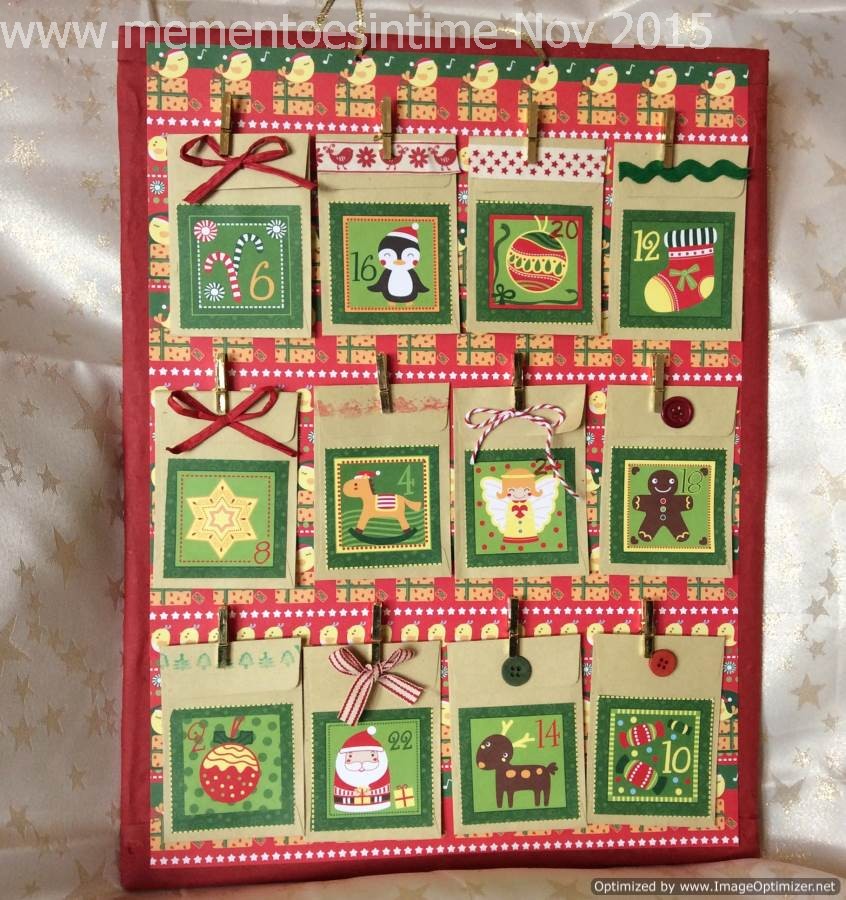 Those of you who have read this blog before, know that more or less everything I do has to be a quick and easy project. I love all the beautifully complex and very arty work out there on the web but to be honest, like most of you, I really don't have the time to spend weeks and weeks making things these days and I am really looking for projects that can be completed in a couple of hours.Our lives change and become busier and finding the time to sit down and make something is an increasing luxury for many of us.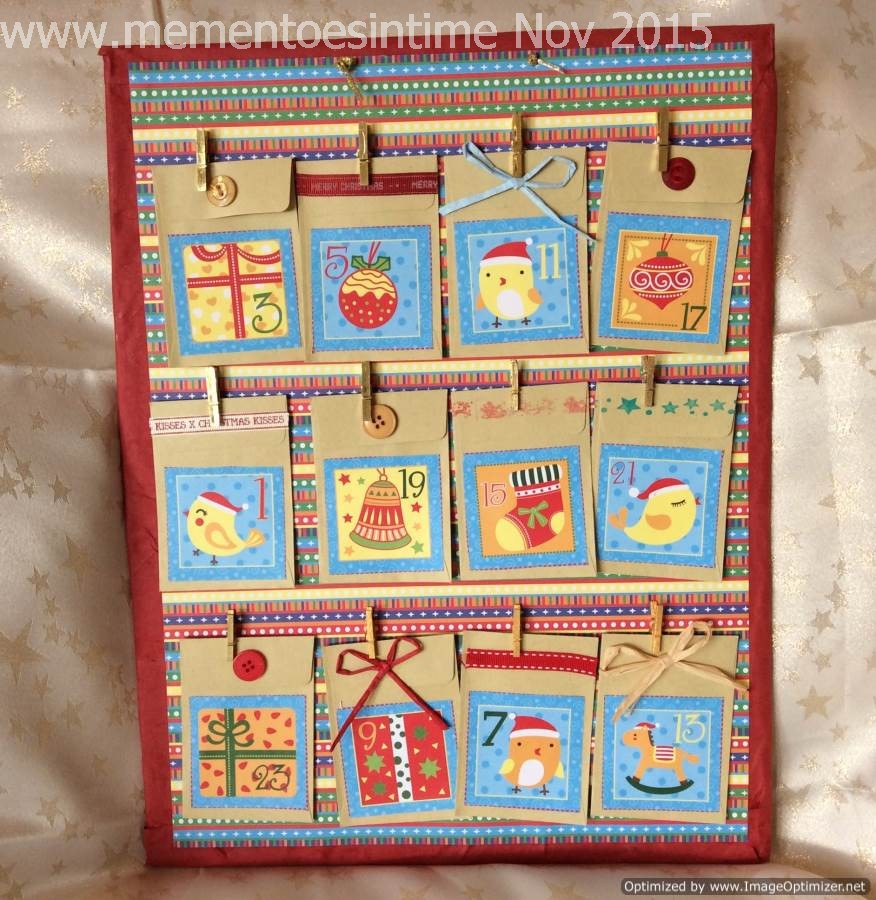 With this in mind, I had the urge to make a range of advent calendars. Why? Well just because I like them really and I remember the excitement and magic of opening the simple advents we had as children and wanted to make something for my family that they would find fun too.
I stumbled on some money wallet/pockets in the store, the kind that we used to put our lunch money in for school. They were very cheap and just begging to be used, so decided to make this simple board calendar, using just those, some Christmas papers I had left over, some mini pegs, decorative stamps, ribbons and buttons and an old packing box to make the base. Here are a couple of photos but I haven't done much of a tutorial as it really is a very simple and straightforward project.
Don't worry if you want to make this but can't find the pockets. I have put a template on the member pages (in four sizes). I can see that these pockets will have lots of other uses through the year, so expect to see them again!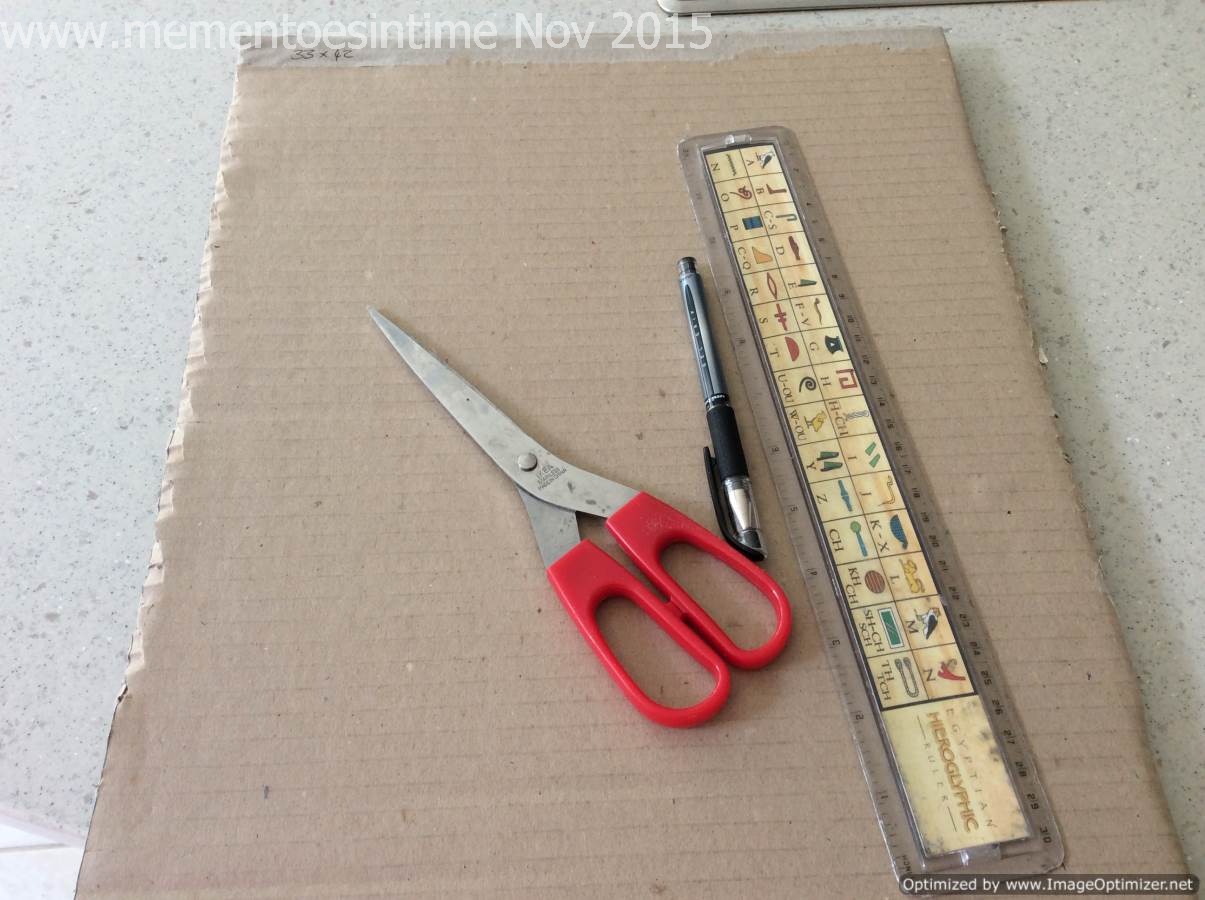 I've cut up an old packing removals box. I have moved about 5 times in the last few years and am frankly sick and fed up with the sight of these boxes, so it was a therapeutic activity to actually destroy one so that it can never be used again!
The side of a small box was good enough but if you are looking for an idea of the size, it was about 13 inches x 16.5 inches (33.5cm x 43cm)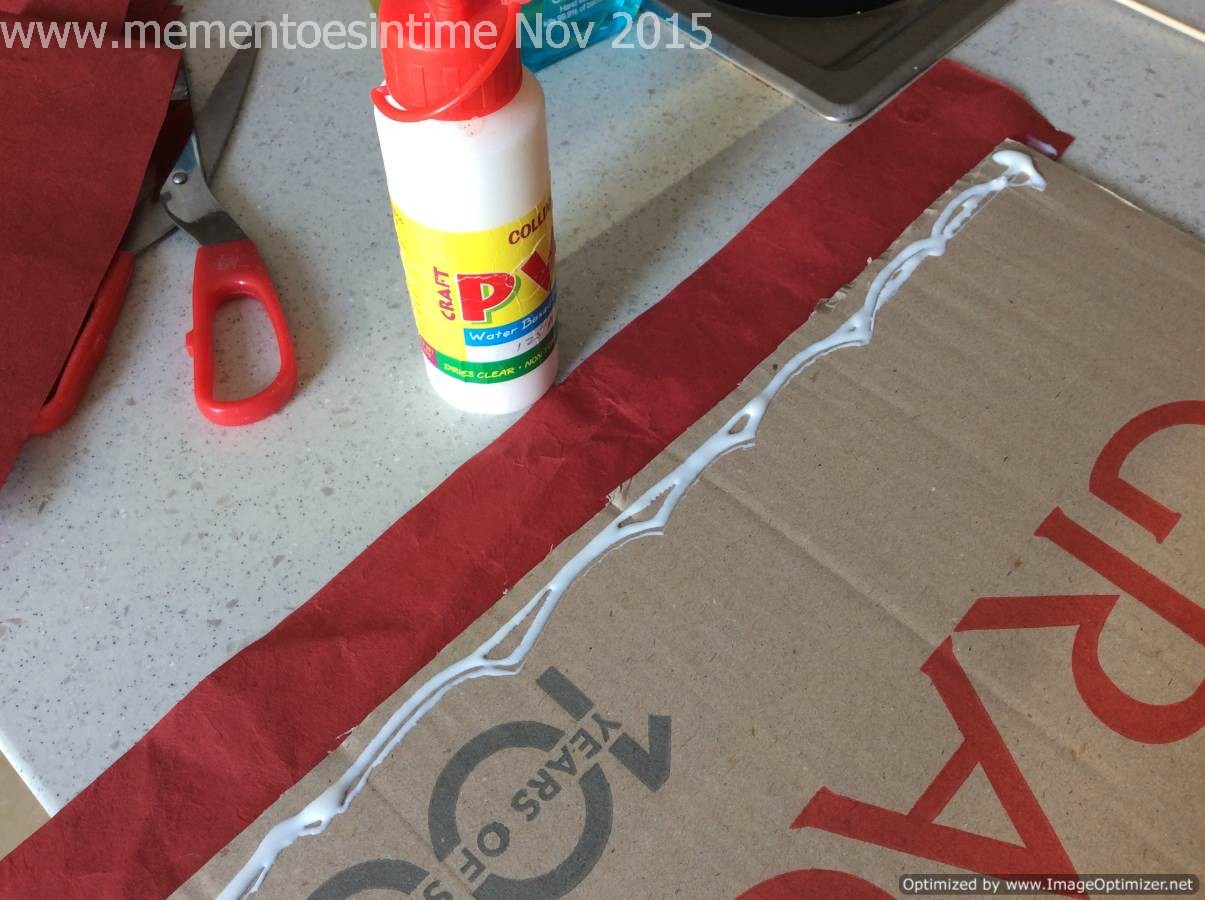 I've covered the edges of the card with a border of red paper. This was because the scrapbook paper I had was too small and to avoid wasting lots of paper, I just covered the edges that would be showing.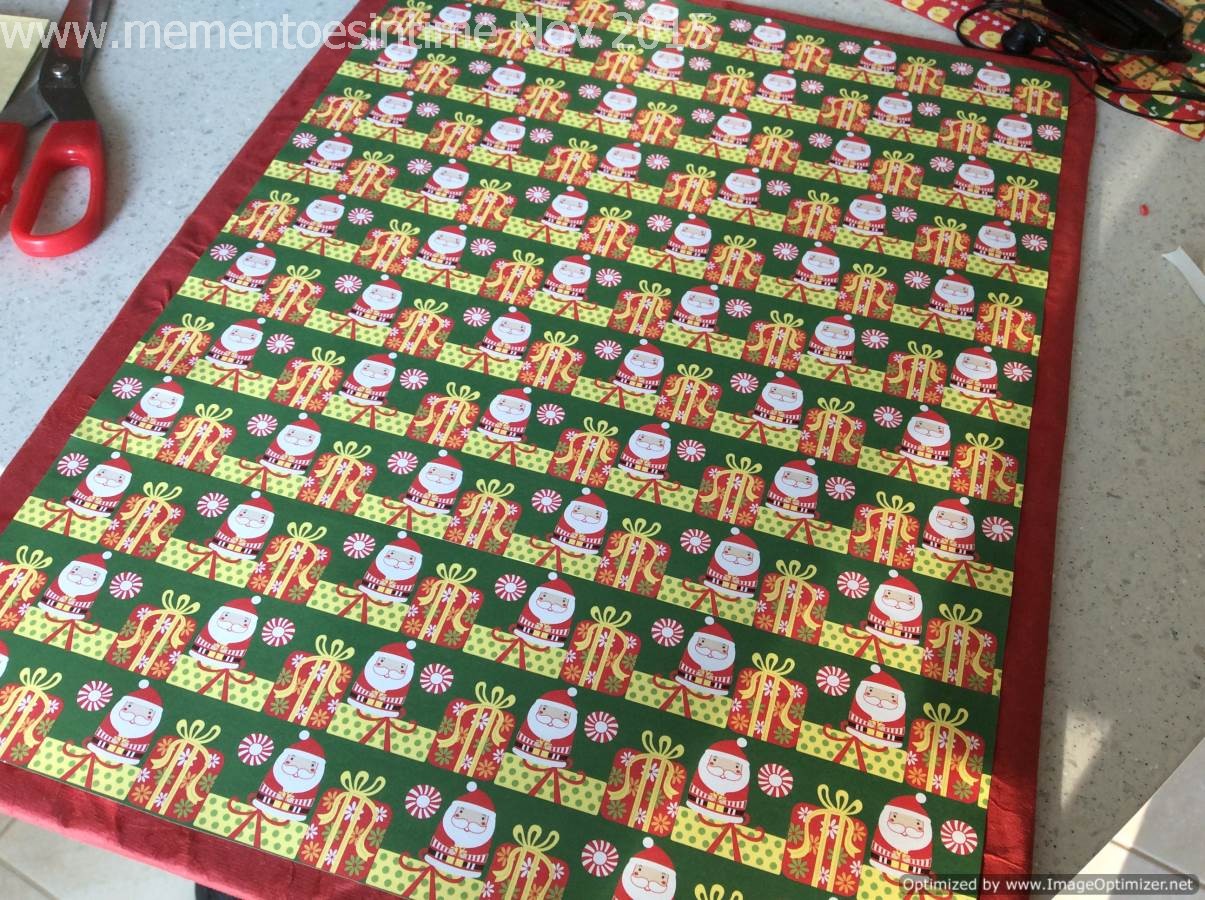 Then I have placed my scrapbook paper on one side. I have gone for a repeating design like this, as I needed two sheets and the join doesn't show if you line it up properly. Then do the same to the other side. This advent stretches onto two sides as the pockets are too big to fit 24 of them on one side. If you don't want an enormous advent taking up the whole room, then it is easier to just do it on both sides of the card. I have gone for a different colour scheme this side.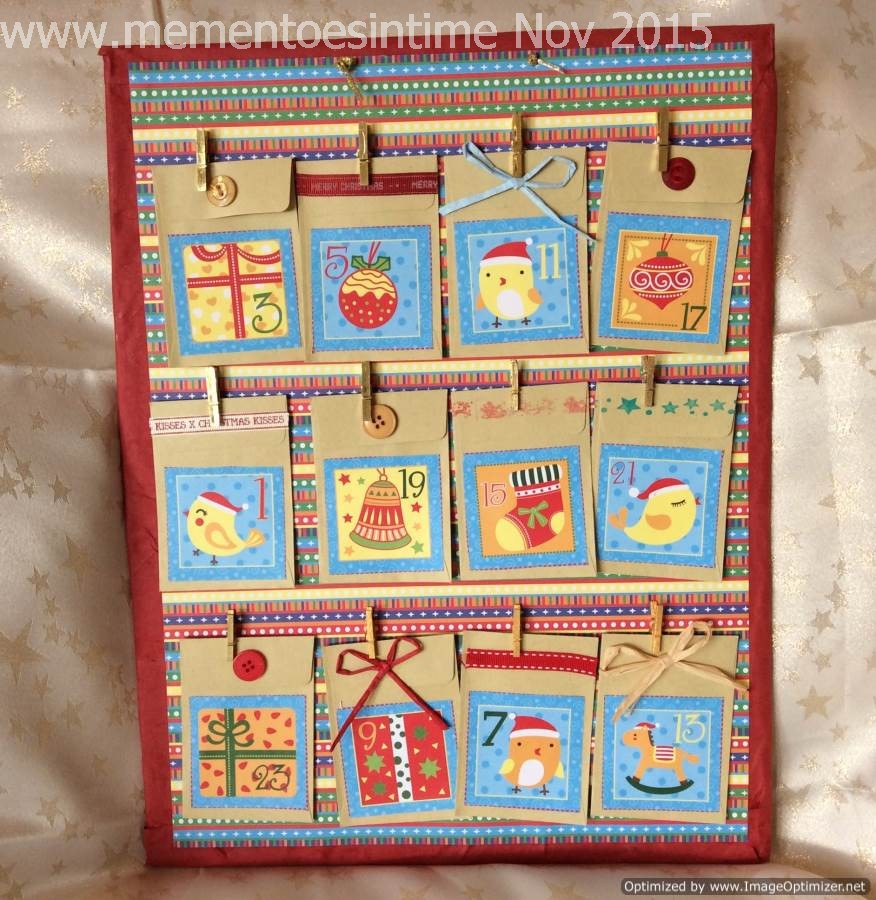 Now you can go ahead and decorate your pockets. I had a very easy job as the scrapbook paper I used had squares with different designs and they were even numbered up to 24. Don't worry if you can't cheat, just find some nice pictures to use (try old Christmas cards to cut up, photos, stamps or other papers). For numbers use stickers, stamps or die cuts.
To attach the pockets, I have glued some mini pegs across the board on both sides and simply pegged them on. You could attach a string across and hang them instead. Punch a couple of holes in the top of the advent and thread through some ribbon, if you want to hang your board and add messages, stamped pictures or even small treats into the pockets. I am actually thinking of putting some mini cards inside mine.

This is the first of six different advent projects I will be posting up on the blog over the next week or so, so drop by to see the rest. I wanted to get them all posted so you had time to make one. It is not December yet!!