| | |
| --- | --- |
| Posted on April 17, 2020 at 6:20 AM | |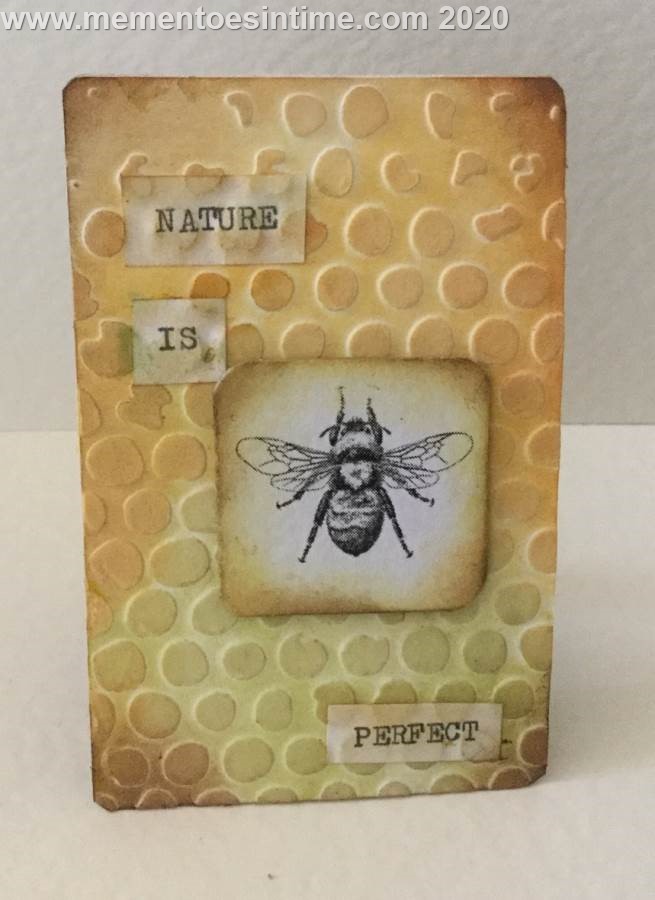 Today's card in our series '52 Cards of Anything But Grey' is on the topic:
Nature
With the lockdown, many people have been spending a lot more time observing the things around them and that includes nature. I am lucky enough to live right near a country park and have been making the most of the one walk a day we are allowed. The new lambs, cows and many birds of all kinds are lovely to watch and being forced to slow down having the time to notice them is a special gift in itself. As before, the topic is inspired by the background. It kind of reminded me of honeycomb or something similar, so I decided to go with a Bee theme here
The background was done with a stencil and some texture paste. I have a recipe for a make-your-own texture page here on the site under the Tips and Techniques tab on the left hand sidebar, so if you don't have any it is easy to do. Top tip is to let it dry fully before adding any colours over the top.
The Distress ink finish - total fan of these things but definitely not paid by Tim to say that - multiplies the dimensional effect by orders of magnitude. I am not keen on flat art, I love dimension, so this really feeds that obsession. The sentiment was typed out on an old manual typewriter I found clearing my parent's house before Christmas. The kids have enjoyed playing on it and I found that it makes nice typed wording.It is a bit rough and ready but that is the effect I wanted.

Thanks for reading! The next topic is 'The Beach'.