| | |
| --- | --- |
| Posted on November 30, 2020 at 5:10 AM | |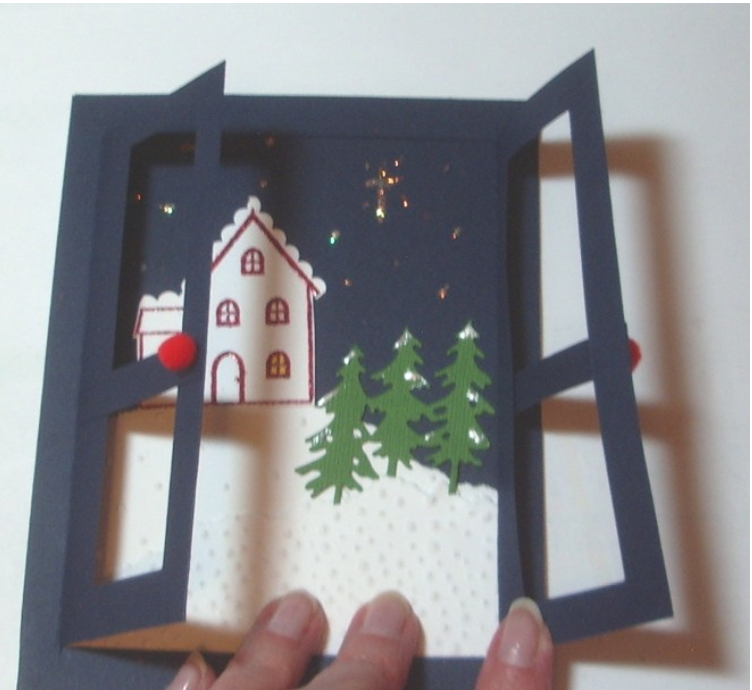 Thanks to Martha who sent me a photo of her lovely winter scene using the window card template. As she was cutting by hand and making 50 cards, she very cleverly decided to use a die-cutter to cut the windows and then use a piece of card to make the bar across the middle. This cut down the work she had to do a lot! The templates are all simple and all designed to be cut by hand and I don't use an electronic cutting machine to test them but easy fixes like this are always helpful. She used a pin to line up and get the die cuts even.
The snow was done with an embossing folder, a neat trick I use all the time myself, with some pearl gloss for snow. She used tiny pom poms for the window handles which makes it easier to post than using hard things like brads or stick on gems. I hadn't thought of doing that! The house was stamped and really cute die-cut trees complete the scene, with a simple stamped greeting inside. Martha did say she might have run the window through a wood effect embossing folder if she had thought of it before but actually I think it would have been too fussy. The simple clean look at the front means you are not distracted from the lovely scene behind.
Thanks so much Martha for sending in your very festive card! If anyone wants to upload a card to the members' gallery, you can do that yourself from your member profile or directly on the gallery itself by following the instructions at the top of the page. Alternatively, you can send them to me here at contact us at mementoes in time or add a link on the facebook page or twitter. It is really nice to see what others are making using the templates or freebies or anything else you would like to post and let others see to get ideas!